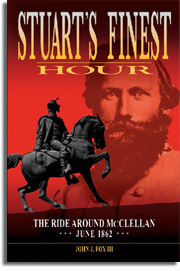 Stuart's Finest Hou: The Ride Around McClellan June 1862
by John Fox III
ISBN 978-0-9711950-5-9
Copyright 2014
Format 6 x 9 hardback, 344 pages, 7 maps, 75 photos, appendices, bibliography and index.
$31.95
James Ewell Brown Stuart was one of the many men vaulted into sudden prominence by the Civil War, and his ascent began with his storied ride completely around George McClellan's huge army in the summer of 1862. Things were looking grim for the nascent Confederacy just then, with reverses in the West, the fall of New Orleans, and a seemingly unstoppable Federal army poised just outside Richmond to deliver the final blow. The Confederates had a new commander, as yet untried, who badly needed information about the strength of McClellan's right flank. To that end General Robert E. Lee dispatched JEB Stuart for a look.
John Fox's book is one of that increasingly popular genre, the micro-history. It looks only at Stuart's famous ride and gives only a passing glance to the Peninsular campaign of 1862. Using a wealth of primary sources, some previously unpublished, Fox gives the reader an in-the-saddle account of the ride and its aftermath. One thing I really liked was the excellent photos, which were a blend of period and contemporary, giving the reader an excellent feel for the terrain. The excellent George Skoch maps also help the reader keep track of the raiders' progress, and there is a downloadable guide for a driving tour on the Angle Valley Press web site.
Like many students of the Late Unpleasantness, I've known the basic facts of Stuart's ride for years, but Fox's book helped fill in the blanks. One detail was how little fighting there was – other than a small clash at the raid's beginning, Stuart wisely relied on speed and stealth rather than force to get the information he needed. This of course did not stop him from looting Yankee supplies and capturing prisoners. When Stuart returned laden with loot he had lost only two men (one killed and one captured), and his information was vital to General Lee for formulating the upcoming Seven Day's campaigns. The crisis of the raid occurred when Stuart decided to go south around the Union army rather than return the way he'd come, and was trapped against the flooded Chickahominy River. You'll have to read the book, however, to find out how he got over it.
Although luck certainly played a part, Fox shows just how Stuart thoroughly bamboozled the Federals, commanded by his own father-in-law. The ineffective Union cavalry organization helped, but Philip St. George Cooke also lacked the fire required for a good cavalry commander. Cooke, a Virginian, had the dubious distinction of having both a son (John Rogers Cooke) and a son-in-law who became Confederate generals.
The book also has two appendices – one about the burial and subsequent heroic afterlife of Captain William Latane, and another analyzing various criticisms of the raid (did Stuart take too many men? did he tip off McClellan about the danger to his supply base?).
Overall the book is a good read, cleanly written. Physically it is well designed and produced, with as mentioned above an excellent set of maps and photos. As such it is emblematic of some of the excellent books coming out of small presses these days, and well worth a place on your bookshelf.
***
Check out the
Siege of Petersburg Online
for daily posts on battle accounts in newspaper articles, diary entries, letters and more!
What are your
Top 10 Gettysburg Books
? See what a panel of bloggers said recently.
Want to read some interesting Civil War content from amateurs and pros alike? Check out the
Top 10 Civil War Blogs
and
Top 10 Civil War Blogs: 11-20
.